Do not hesitate to contact us!
Company
PRAEMIUM IMMOBILIER
Street
62 Quai Gustave-Ador
General phone nb.
+41 022 736 39 80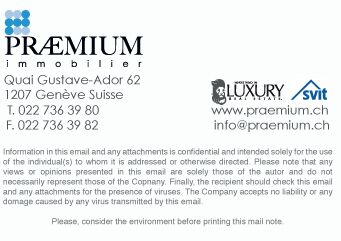 PRAEMIUM IMMOBILIER
Brokerage, Property Management, Renovations

Open
Monday to Friday 8:00 AM / 12:00 PM & 1:30 PM / 6:00 PM
Saturday on request




____________________

Nothing of what is shown on this website shall be interpreted as a right of use of image(s), brand mark(s), service mark(s) and/or logo(s). Downloading, copying or printing pages and/or parts or total of this website is only authorized for strictly personal use. The Swiss franc is the reference currency, but no price has contractual value.